About Hugh
About Dr. Hugh Conlon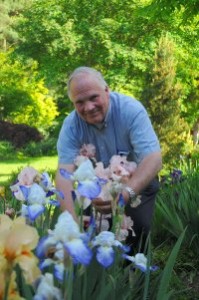 I am a gardener, one who actually enjoys his addiction for plants.  I have been a horticultural educator for 30+ years.  Beginning my retirement years provides me with more time in my garden and more time to share my profession with those whose company I enjoy the most—you who till the soil.
Once Upon a Time…
Over the past 33 years, I have worked as the University Extension Area Horticulturalist in east Tennessee and in southwest Iowa. Over the past 23 years I have organized hundreds of educational meeting for commercial nursery and greenhouse growers, landscapers and garden center employees. I continue to teach training classes for the University of Tennessee Master Gardener program.  From 1974 to 1977, I served as Home Ground Extension specialist at the University of Rhode Island and taught plant identification courses at Michigan State University.
I continue to write garden features and articles for magazines and newspapers. I am a frequent contributor to various landscape and nursery trade newsletters as well as to the Southern Appalachian Plant Society newsletter. I have written over 40 Extension garden fact sheets under the "Tennessee Great Gardens" logo.
I have organized over 25 commercial industry and home gardening tours throughout the Southeastern and Northeastern U.S. I continue to lecture at commercial, horticultural and gardening events.  In 1994 I organized the first UT Master Gardener class in the Tri-Cities region of Tennessee, and I continue to play an active role in the Master Gardener program today.
Born and raised in Brooklyn, New York, I pursued a PhD degree in Ornamental Horticulture for five years at Michigan State University. I earned a BS degree (Pomology) from Cornell University in 1967 and a MS degree (Plant Sciences) from the University of Delaware in 1969.
My wife Jane and I are proud parents of four children. Hobbies include photography, writing and traveling.
Professional Memberships include:
Perennial Plant Association
Garden Writers Association
American Conifer Society
Southern Appalachian Plant Society
Tennessee Nursery and Landscape Association