Coneflowers (Echinacea purpurea) are very popular perennials (USDA hardiness zones 4-9). Their colorful flowers will attract a multitude of beneficial pollinators to your garden. Some cultivar series come in a myriad of colors.
For the best and biggest flowers, coneflowers perform at their best in full sun and in well-drained soils. After planting echinaceas grow off quickly, are moderately drought tolerant, and stand up to heavy summer rain, high humidity, and moderate winds.
Three of the top performing series are:
Cheyenne Spirit® (2013 AAS Trial Winner) requires minimal care ― no deadheading, staking or excessive watering. Cheyenne Spirit comes in myriad of colors – white, yellow, orange, red and purple, sometimes all on one plant! Plants are somewhat bushy and upright, measuring 30-36 inches tall.
PowWow® Wild Berry™ was selected an All-America Selection (AAS) Award in 2010. Plants form a mid-sized mound of coarse dark-green leaves and large daisy flowers with magenta-pink petals surrounding an orange-brown central cone. 'Pow Wow White' is equally beautiful. Plants are well-branched and bloom all season. It requires no deadheading and flowers are nonstop. Its compact size, 18-24 inches high and 12-16 inches wide, is an added plus.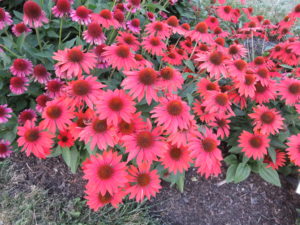 Sombrero® series also grows compact, is free branching, early blooming, and come in a wide range of colors including purple, red, coral, pink, orange, yellow and white. Blooms measure 2.5 to 3 inches across. Sombrero Salsa Red and Sombrero Adobe Orange is the earliest to start flowering (around mid-June). Hot Coral grows 24 inches tall. Salsa Red is the shortest, only 16 inches tall.  'Sangrita Red' (above) grows 16-18 inches tall with scarlet-red petals. Adobe Orange is taller at about 20 inches with larger flowers. Their compact size makes them idea for containers on decks and patios.
Fill your flower vases this summer with long lasting coneflowers. Native to North America, coneflowers are great pollinator plants in gardens when planted in a perennial bed or as part of a landscape border or and in large containers and window boxes. Their floral seed heads feed birds all fall and winter. Coneflowers are also deer resistant.