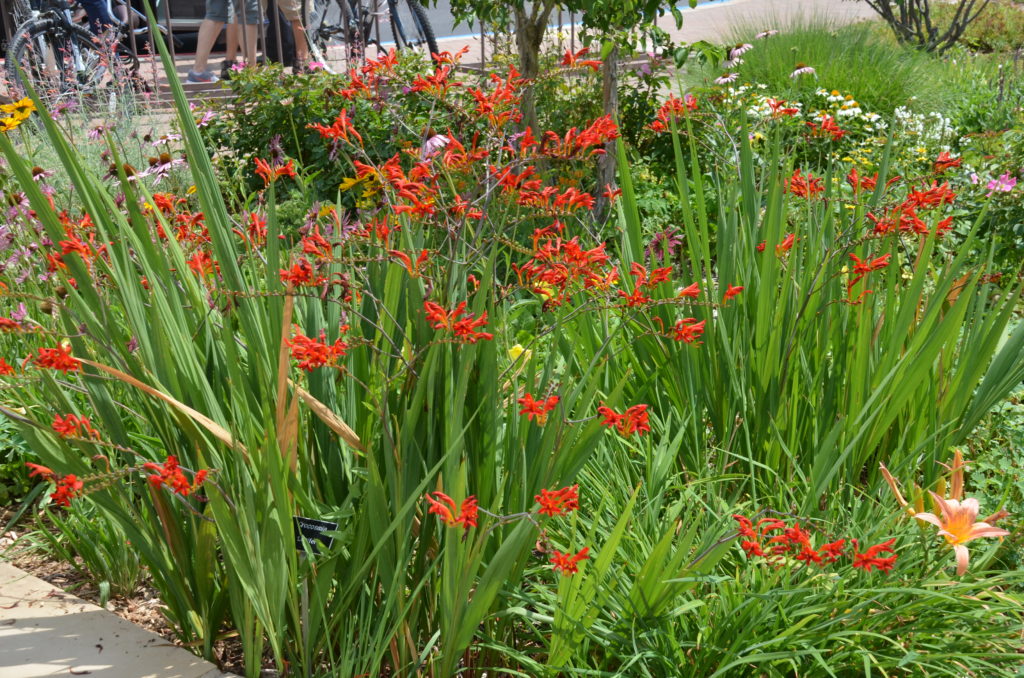 Crocosmias are bulbous summer blooming flowering perennials that are closely related to gladiolas, also called montbretia and sword lilies. They're actually corms, not bulbs, and are indigenous to South Africa (USDA hardiness zones 5b to 9).
Crocosmias enjoy lots of sun, soil moisture, and hot temps to produce flowers. Plants prefer nutrient-rich, slightly acidic, moist, well-drained soils. They begin blooming in mid-June and continue over most of the summer into fall. The brightly colored flowers emit a saffron fragrance. In northern gardens (zones 5b – 6), mulch in late fall for winter protection of smaller corms.
The gladiolus-like dark green foliage may be rippled or pleated. Usually disease and pest free, leaves may become sapped of their green color by mites and thrips in a dry summers; wash off foliage or resort to pesticide spraying.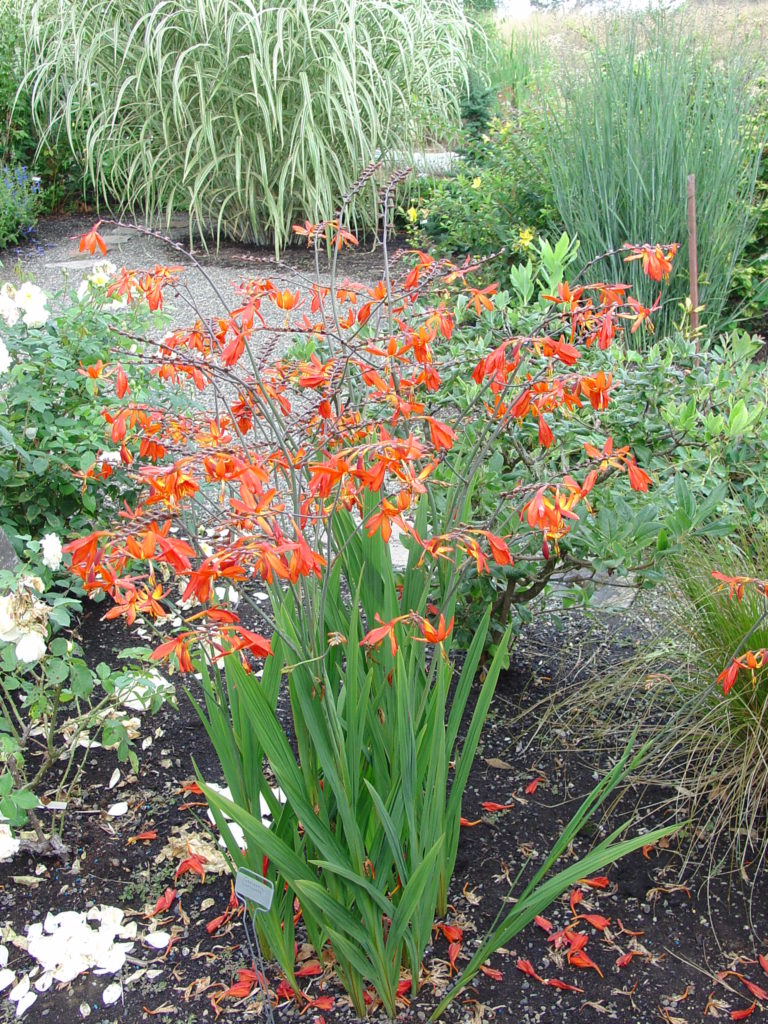 Many cultivars are available; some grow vigorously and others at a slower rate. Color choices range from vivid reds, oranges, yellows and bi-colors. Flowers are followed by black berries. The fiery red cultivar 'Lucifer' is the most popular cultivar with scarlet red beauty. Set many many corms 3-4 inches deep and 8-10 inches apart to fill the space with showy clusters of flowers.
Over time a bed of crocomias may become overcrowded. Corms should be dug and divided in the fall. Cut the foliage down to the ground in fall or wait until late winter.
Crocosmia blooms are produced on 2-4 feet tall wiry arching stems, depending on variety. Plant shorter compact varieties in either flower beds or in containers. Crocosmias make excellent cut flowers, much in demand by florists.
In addition to 'Lucifer', I have listed five other varieties:
'Prince of Orange' – 2 ½ to 3 foot tall, red-orange blooms / burgundy speckled, gold centers
'Mistral'- 2 to 2 ½ foot tall, orangey-red flowers
'Star of the East' – 3 foot tall, huge starry wide-open orange flowers
'Tobias' – 3 to 4 feet tall, 2-3 inch wide orangey-red blooms
'Walberton Yellow' – compact 2 to 2 ½ feet tall; tightly-packed bright yellow flowers.