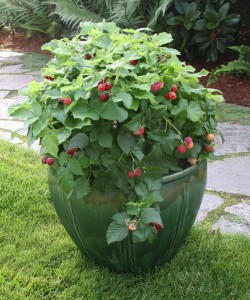 Great packaging along with exciting breeding has ignited interest in growing small fruits in containers. In recent years the BrazelBerries™ fruits have become popular at garden centers.
Brazelberries is the creation of the Brazelton family of Fall Creek Farm & Nursery, Inc. in Oregon, who have been propagating and growing berry plants since the 1970's. Their breeding program is focused on offering tasty and beautiful berry plants for containers and gardens. Fruits are easy to grow and are both delicious and nutritious to eat.
Easy care BrazelBerries make attractive landscape plants in a sunny garden spot as well as in decorative patio and deck containers.
Plants are compact in size and can be grown in #3 or #5 nursery containers or in larger ceramic urns.
Great tasting for your guests snacking or as appetizers at a summer garden party. Try Peach Sorbet® blueberries, Jelly Bean® blueberries, or Raspberry Shortcake® raspberries.
Mix with small shrubs, perennials and annuals along a pathway or group several together for ornamental beauty.
Create an edible landscape whether for snacking or as a wildlife attraction.
Clip of fruiting branches to utilize in floral arrangements.
To maximize fruit production, fertilize with Miracle Gro™ or Peters™ every 2-3 weeks during the growing season and prune plants in late winter before new spring growth begins. Fruit plants are disease resistant but may have occasional problems with aphids.